Gisele Bündchen was in Brazil to fulfill a three-day schedule with Ambipar, a leading Brazilian multinational in environmental management, in which she became a shareholder, ambassador and member of the Sustainability Committee. Among the commitments, the supermodel visited the company's headquarters in Nova Odessa, a city of São Paulo state, where she was received by the CEO of Ambipar Environment, Cristina Andriotti.
At Ambipar, Gisele visitied all areas of the company, including the Research, Development & Innovation laboratory – responsible for creating numerous products aimed at the circular economy, such as Ecosolo®️. Another commitment on the agenda was participating in the first meeting as a member of Ambipar's Sustainability Committee.
"I was very excited about everything I saw. Ambipar is a company that generates effective results in the environmental area. This is my first experience as a partner of a large company in Brazil. I try to make conscientious investments in businesses that have a positive impact on society and the planet. I really wanted to get to know everything that had been presented to me up close, and the more I get to know Ambipar, the more sure I am of my choice. The environmental care and sustainability services that the company provides need to be multiplied many times over for us to be able to promote significant changes in our society", stressed Gisele.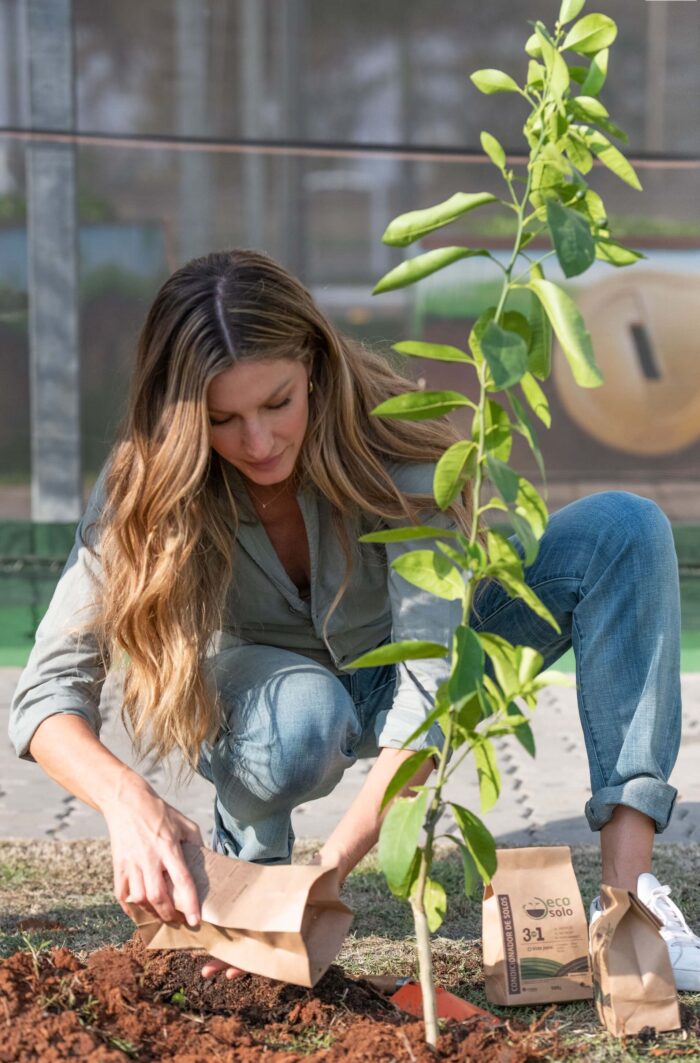 Ambipar Environment CEO Cristina Andriotti considered the meeting very important. "We had already talked numerous times with Gisele via video, but this was our first face-to-face meeting – and it was excellent. She is Brazilian, has a strong international presence and a long history in favor of the environment, just like Ambipar. That's what brought us together initially. The visit brought us together even more, we were able to talk, exchange information and views, I am sure that this visit will bear much fruit – literally, even. Gisele encouraged us to create a grove of fruit trees here at the headquarters and even planted the first two trees during her visit," said the executive.
Cristina also highlighted the supermodel's interaction with the Ambipar team. "Our employees were very excited about her visit. Everyone could see and hear her, following all protocols relating to Covid-19. We hope to have her here soon to further strengthen our relationship, which, we are absolutely sure, will be extremely successful", she concluded.
About Ambipar
Ambipar is a Brazilian multinational in environmental management. The company's mission is to help client companies to be increasingly sustainable, preserving the planet for future generations. Ambipar is made up of two complementary areas – Ambipar Environment (environmental care) and Ambipar Response (environmental emergencies). The company operates according to the ESG pillars and already has operations in 18 countries on 4 continents: Americas, Europe, Africa and Antarctica.